October 21st, 2010 |
Uncategorized
| Ruth Bresson |
3
In the absence of being able to run as much as I hope to again one day I have taken to cleaning out closets and prepping for Christmas!!  So, I pulled out a huge box of already purchased Christmas surprises to be sure I don't buy the exact same stuff again and I found a brand new box of crayons and a first coloring book for my little granddaughter, Gracey who turns two in November.  I know it's completely silly…but that brand new box of crayons brought tears to my eyes.  For years, I made sure that my kids always received new art supplies every Christmas – whether they wanted them or not.  And to this day because I believe my son is truly a gifted artist I want to give him new crayons and drawing pencils and art paper every single Christmas – and he is 32 years old.
I opened that lovely box of crayons – so bright and beautiful – and simply indulged in their vibrant colors.  Every color was one that a two year old would be proud and brave to hold in their chubby little hand.  And it occurred to me how easily, how willingly we ignore the best colors in the box.  Or I do.  I gravitate toward the blacks and the whites – not real colors at all – with an occasional brown thrown in for good measure but I completely miss the shocking pinks and splashy oranges and the soothing blues and greens.
And then, in an ever so sneaky way, I buy into a belief that my life is – oh, I don't know – kinda grey, kinda cream, kinda dulled.
I want my True Color back.
So, I found that feisty Cindy Lauper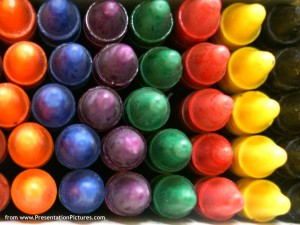 song, True Colors, on  the internet and turned up the volume and colored all over notebooks and journals.  I might just paint my walls a fabulous red!
I love Cindy's words…
"But I see your true colors
Shining through
I see your true colors
And that's why I love you
So don't be afraid to let them show
Your true colors,
True colors, are beautiful,
Like a rainbow."
Amen to that……Color on……