July 19th, 2010 |
Uncategorized
| Ruth Bresson |
No Comments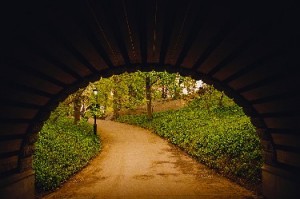 One day last week I went for a mid-day run…1:30 or so…much, much too hot….
truth be told…running mid-day in 90 plus degrees is a bit dangerous…
but maybe sometimes we need to run a bit dangerous….
and I thought of the words spoken by a dear friend who this week taught a group of women how to speak back to fear the way Jesus does…
the treasure for me was her statement…."You will fail. Everyone does. But failing does not make you a failure."
her words were the beats forming the rhythm of my run….
the thing is….if we long to love well…to run well….we will have to choose to run dangerously every now and then….
love will compel us far out of our comfort zones…and we will round a bend or find ourselves in a dark tunnel; ambushed by unexpected attacks or misunderstandings or – yes, even our own failures -
and we will want to quit.
but if we choose to continue running even where we once ran into carefully constructed walls…amazingly, mysteriously we can run through the breaking apart of those walls….we can run through that ominous tunnel…even while navigating the debris raining down on us…(scary, i know)….
if we just keep moving…
Break Outs……Break Opens……even Breakdowns….
………..BECOME    BREAKTHROUGHS…………
Is there a dangerous run marked out for you?  Have you believed that "failing" disqualified you to run?
You are wrong.
In fact, the very "breaking open"  that you might be presently running through unleashes the power to equip you to continue running…even to run dangerously…..straight toward your "Breakthrough…"
If it feels terrifying to run alone…then don't….seek out a sound coach, a mentor, a tribe, a kindred spirit….and look up…not down…you will see the light beckoning you to move forward….
You can do this…..